Our 9H-LDC Pro is not just for road vehicles; we have your Jetski paint protection covered as well.
9H-LDC PRO by Always Dry is an advanced ceramic automotive paint protection coating, which offers not only high durability but most of all excellent hydrophobic properties. Unlike other products, owing to its content of far beyond 60% SiO2, it gives an incredible transparency of the cured coat. It is also totally resistant to any chemical with pH between 2 and 11.
Protect your Jetski & Jet ski accessories. 9H-LDC Pro specifically protects against colour fading, acid rain, tree sap, oxidation, bug splatter, bird droppings, road grime, harmful UV rays, corrosion, hard water stains and light scratches. If you want to keep your Jetski in great condition safe from the elements and uphold its value 9H-LDC Pro is the only choice for your Jetski protection.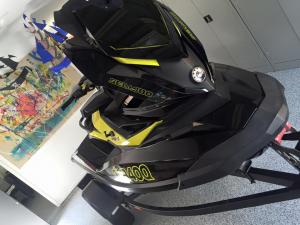 CURRENT OFFER: Free Wash Kit When you Protect Your Jetski With 9H LDC Pro At Our Gold Coast Coating Centre
Always Dry Gold Coast is in the business of delivering the best and longest lasting protective coating technology on the market. We offer an entire line of protective coatings for various surfaces. They have been designed to deliver maximum durability, stunning visual impact while protecting against harsh weather elements and day to day use.
Why Invest in Paint Protection?
It is the most expensive and most impressive part of your vehicle, Most importantly, it is the single largest factor while selecting a vehicle. Make, Model, Motor, even price all take a back seat when it comes to quality and colour of your vehicle's finish. Nothing compares to the dramatic, flawless shine of a brand new paint finish. But in reality, it rarely lasts the life of a vehicle. When a vehicle looks older, more scratched and worn than it is, both pride and resale value are lost.
Today's Automotive industry has adapted new VOC free (Ozone depleting toxic chemicals) eco-friendly water based technology. Although great for our environment, these new environmentally-friendly paints are much softer and scratch easily. Thus, paint protection is needed now more than ever before.
Ultimate In Ceramic Technology 
9H-LDC is our breakthrough product. Since its launch, it has set the benchmark in ceramic paint protection technology. It is composed of high-grade quartz nanoparticles that permanently bonds to the clear coat and becomes a functional part of the vehicle's body. Unlike other ceramic coatings, It consists of two layers that offer two highly desired characteristics in a single application, extreme scratch resistance while being superhydrophobic.

9H-LDC forms a permanent chemical bond. Being a true 9H product, it achieves 9H hardness with a single coat. Once cured it can only be removed by machine sanding. It also offers anti-graffiti, anti-rust, extreme chemical, corrosion, UV and temperature resistance. These unique characteristics are what makes 9H-LDC the most sought after ceramic coating in the world today!
Protect your Jetski with Always Dry Gold Coast.